Bewilderbeest Begins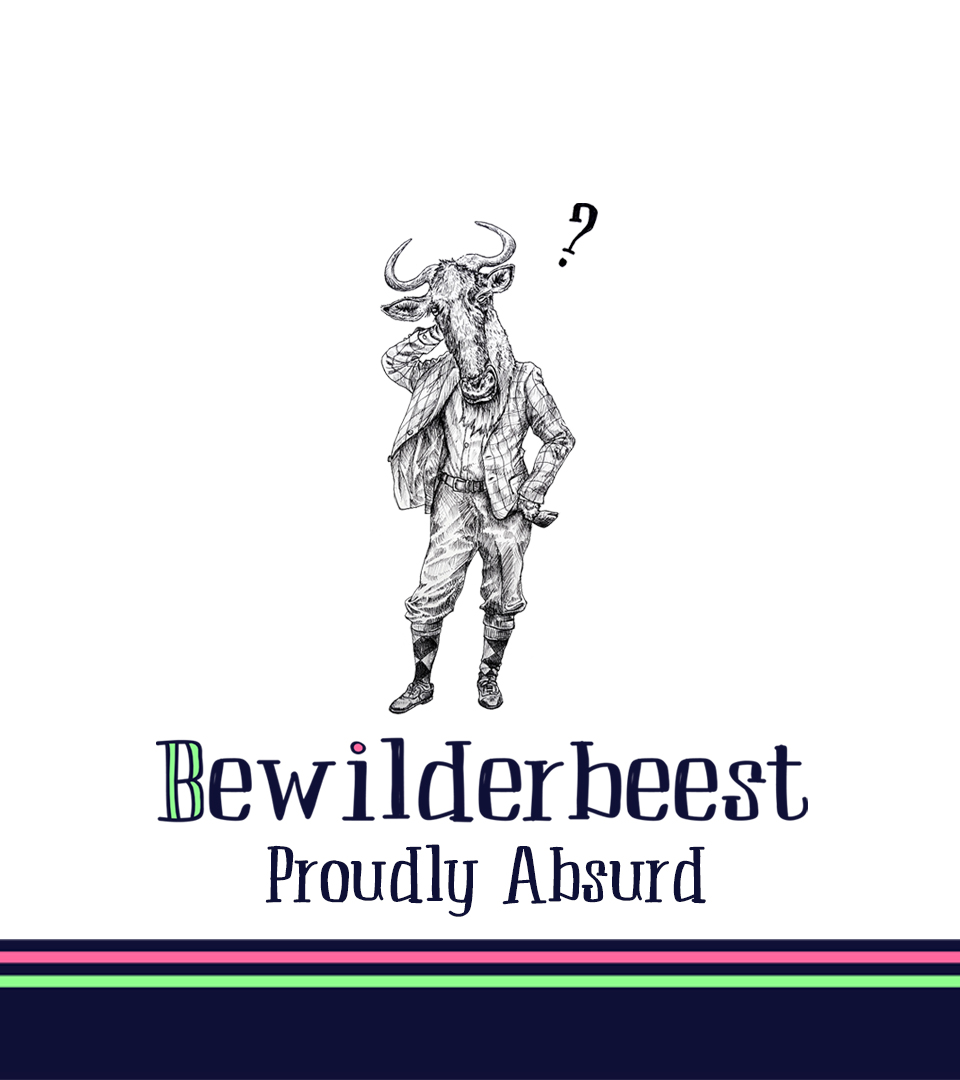 Or, why being a terrible ski jumper made me quit my job.
When people ask me whether I went to Art School, or what artistic and creative qualifications I have, there is only one thing I can think of that might give my current artistic endeavours some credibility; I won the Farmers Weekly colouring competition, aged 8.
I can almost hear the graduates from the Royal College of Art whispering excitedly to one another at the prestige of such an award! I won a toy combine harvester (a Massey Ferguson no less), and toy tractor and trailer. Sadly, I have no record of the finished masterpiece – no doubt it remains framed above the Farmers Weekly chief editor's desk to this day.
Growing up, I always drew pictures and cards for friends and family. I asked for so much paper to draw on when I was small that in the end, a (strangely pink) ream of paper was kept at the kitchen table at all times for me to scribble whatever popped into my head. It did stop me drawing on the walls I suppose.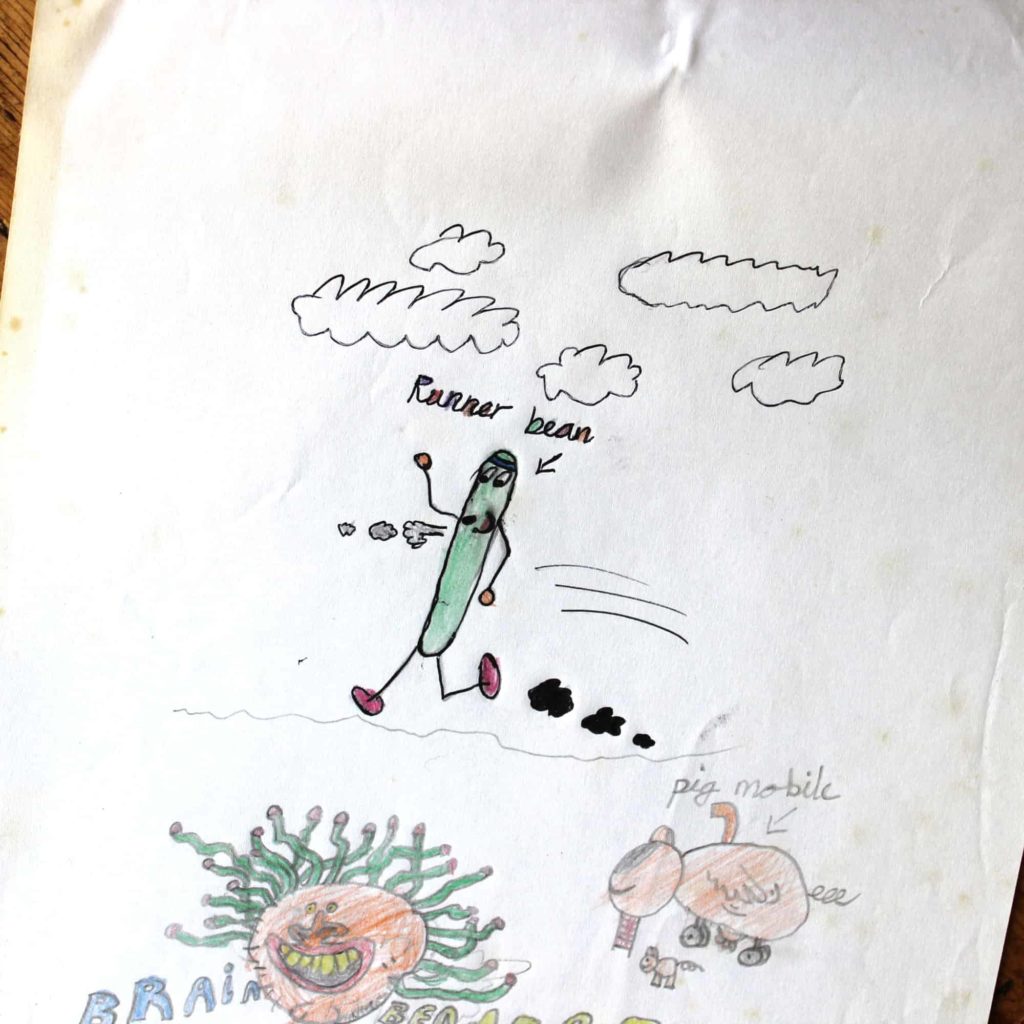 Show Time
I was always encouraged to enter local horticultural and country shows by my parents, and I spent many evenings before a show decorating a biscuit with icing, or trying to make a butternut squash look vaguely like a lion (which is about twice as hard as you'd think). You can see below proof of my skill in the Gransden Show art class 2015 where I bagged third prize! There were only three in the class, and I got whipped by an oil painting of Princess Diana, but it's still a podium finish.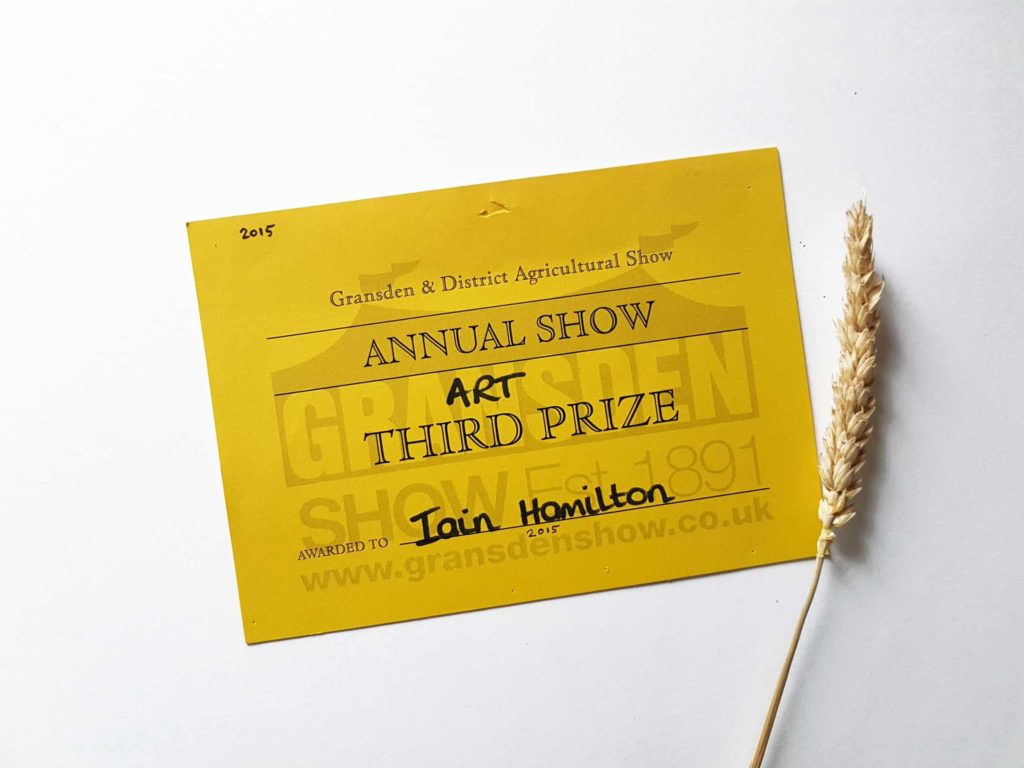 Despite the paintings that I did for friends and family, and vague mumblings about how it would be great to draw for a living, I never took it any further. I became an agricultural loss adjuster for eight years instead. Interesting and varied though it was, the most drawing I did was to sketch how far damp on a wall had spread, or the hole in the side of a barn after a farmer had driven through it.
---
Ski hard!
Then, it all changed when I went skiing with some people who were definitely better at skiing than me. They all went over some ski jumps with great aplomb and, like a spanner, I followed on. The spirit of Eddie the Eagle was not with me that day and I landed with about as much grace as a drunk hippo (having gone over a jump about 3ft high). I limped home to find I had torn the ligaments in my ankle and would be unable to drive for work for several weeks.
While recuperating, I suddenly found I had some free time, so did a large drawing of a 'Bewilderbeest' that had been rattling around my head for a while.
Feeling happier than usual with my drawing, I took it to be framed, and the framer asked if he could sell it in his gallery. Slightly shocked that anyone would want to buy my drawing I stammered out a 'No, thank you' and left.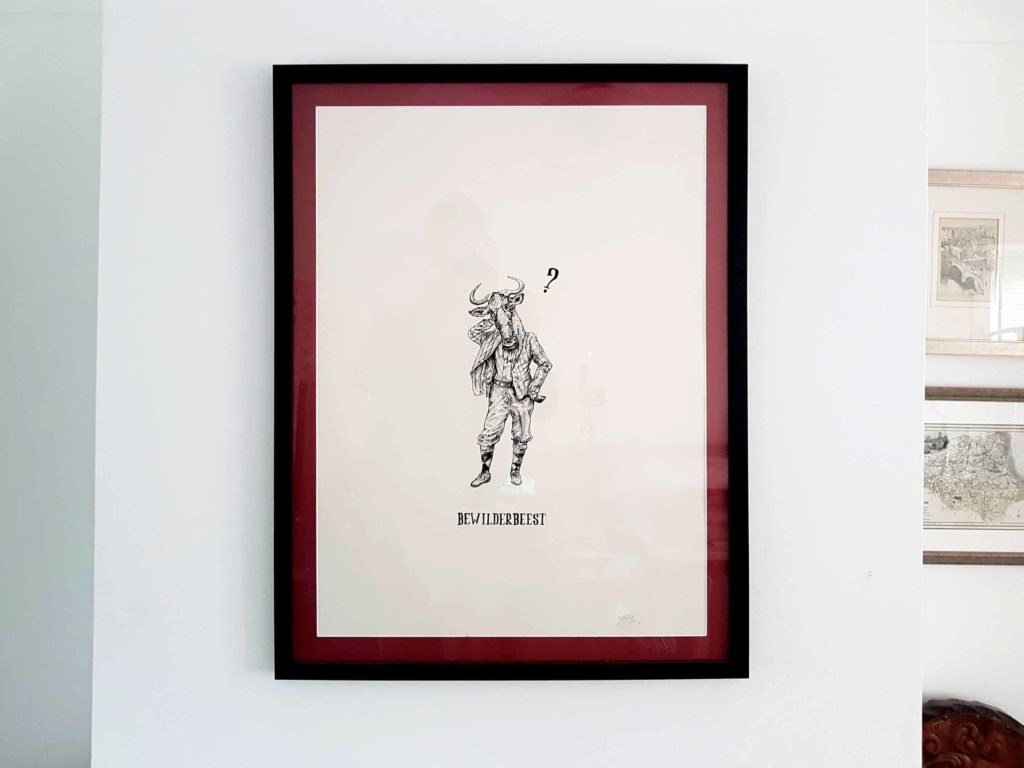 That was it though, the encounter with the picture framer had got me thinking about how I had masses of ideas that would make really fun pictures, if only I could get the time to draw them.
---
Part II – Iain wrestles a printer
Having had a bit of a boost from a real-life gallery owner asking to sell my work, I was struggling to find the time to do the drawings that I had bursting out of my sketchbook. I often worked late, and on the evenings that I wasn't working, I did some part time boot camp coaching, so free time was limited. Some people suggested I could get up extra early to draw, but those of you who know me well will not be shocked to hear that this was met with a thousand-yard stare, as horrifying images of past early mornings flashed through my mind.
When I was sounded out about promotion in my job, I actually went the other way and asked if I could work just three days a week, so I could paint on the other days. My boss agreed to this, and I managed to scribble enough amusing drawings on my 'days off' to make some Christmas card designs, and cobbled together a very basic website.
I initially printed the cards at home on an unpredictable printer that I am convinced was designed by a cruel and uncompromising mastermind, who I had grievously wronged in a past life!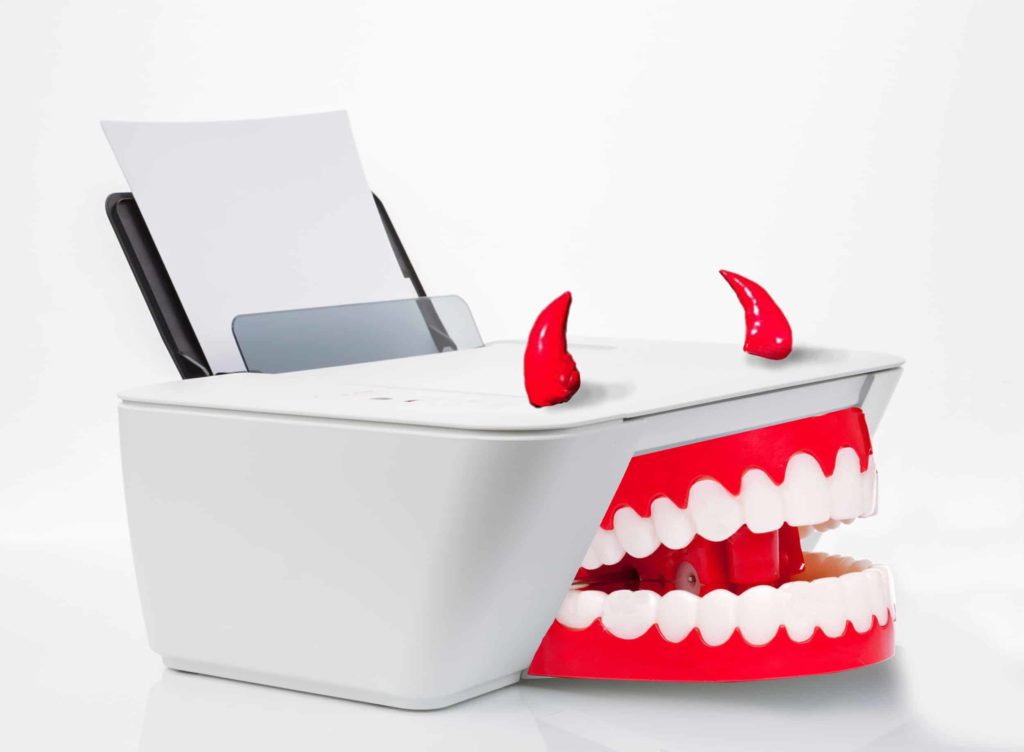 Many an evening my girlfriend Maddy heard language that would make a sailor blush coming from the office (also known as the spare bedroom), as I wrestled to pull another half-chewed sheet of card from the snarling jaws of the ink spewing contraption.
However, I managed to make some card sales to friends and family, and even total strangers (with only minimal arm bending)! Spurred on by this, Maddy and I booked a stall in the craft tent at the local South Suffolk Show for the following summer.
---
Mind fingers
In anticipation, I got some prints made of my designs and then realised that they needed to be framed. Framing can be expensive, particularly if you have a lot of pictures to frame like I did. So, rather than try to fit my pictures into cheap Ikea frames, I booked onto a framing course and spent a weekend learning what a moulding is, how to cut glass, and why you shouldn't put your finger in the way of saw blades. Luckily my drawing hand came home unscathed.
I practised more framing at home in the shed, and on the kitchen table, and quickly got to grips with the old adage 'measure twice, cut once'!
As I made more frames, I also coined a totally new saying of 'why is this blasted thing not cutting straight when I had it set up perfectly only yesterday!?'. It's less pithy, but I stand by it.
Having made a couple of hundred frames now, the mistakes I make are far fewer but I guarantee, if I'm in a hurry, the framing fairies will appear to remind me to take my time by splitting a length of wood, or cracking a piece of glass! It's worth it to have good quality frames for my art though.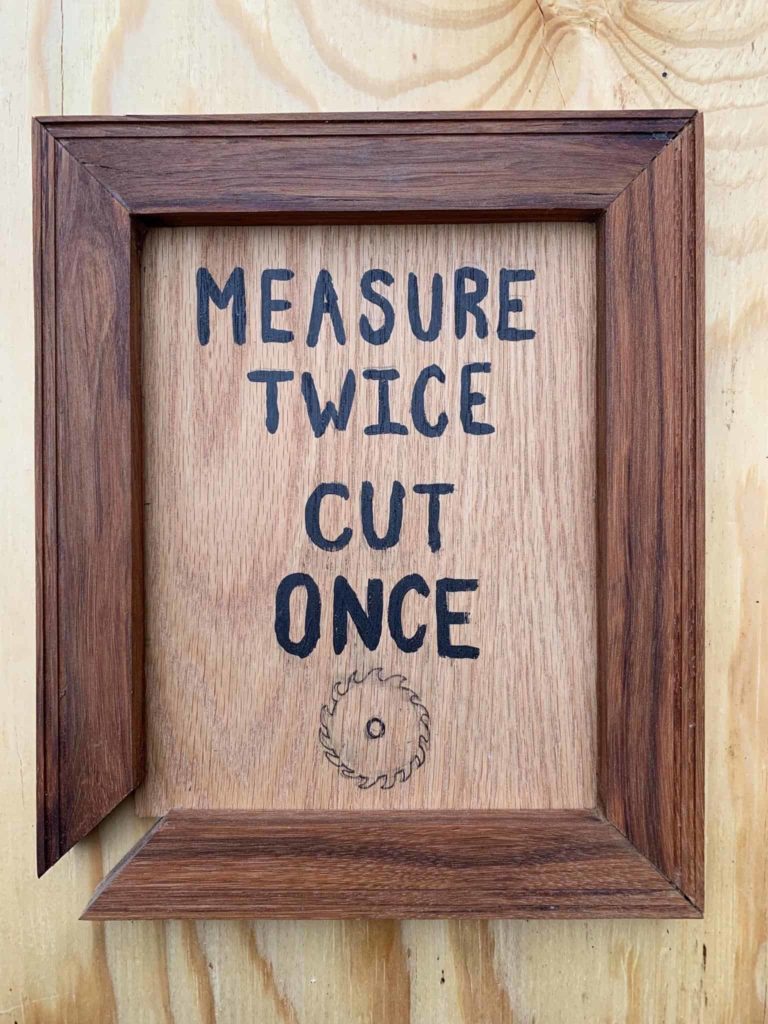 ---
You've got to start somewhere!
At our first show we had a table, some cards in a box, and some framed prints hooked precariously onto a trellis from a garden centre. Let me tell you, we absolutely cleared up! Well, we sold a few cards and one unframed print.
Despite not being in a position to retire to the Bahamas at this point, we nonetheless learnt a lot from speaking to others and seeing how they did it.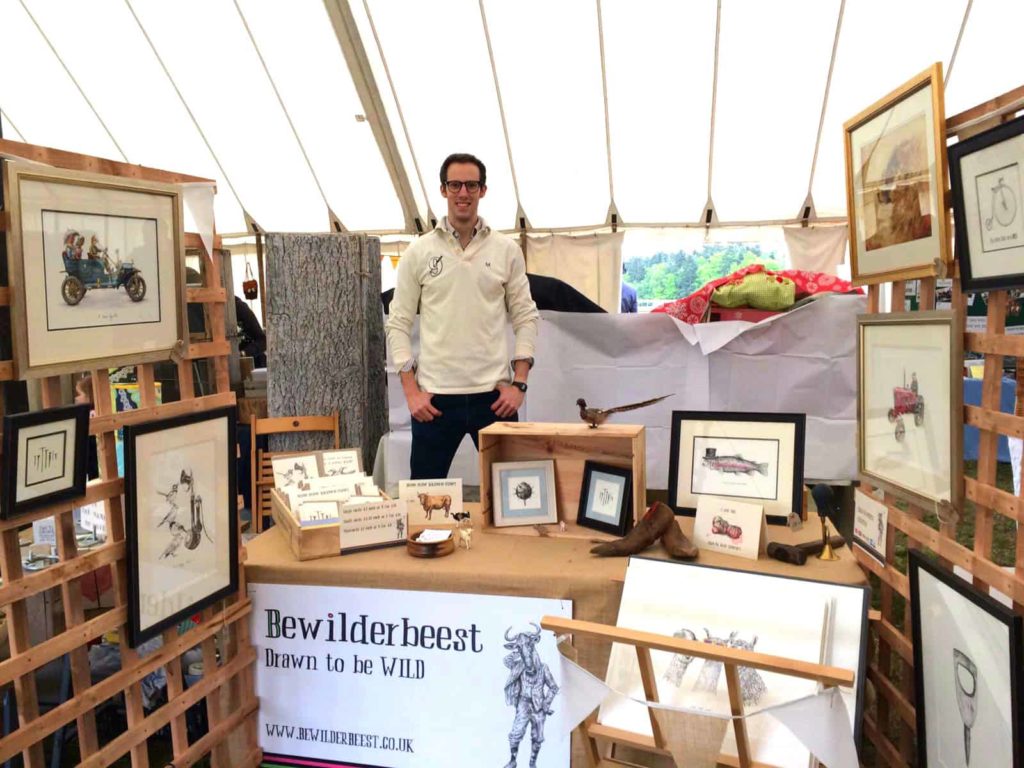 Over the past couple of years, we have improved the stall bit by bit until we recently won Best Tradestand at Tendring Show. As you can see from the photo below, the stand now is a minor upgrade from our first show.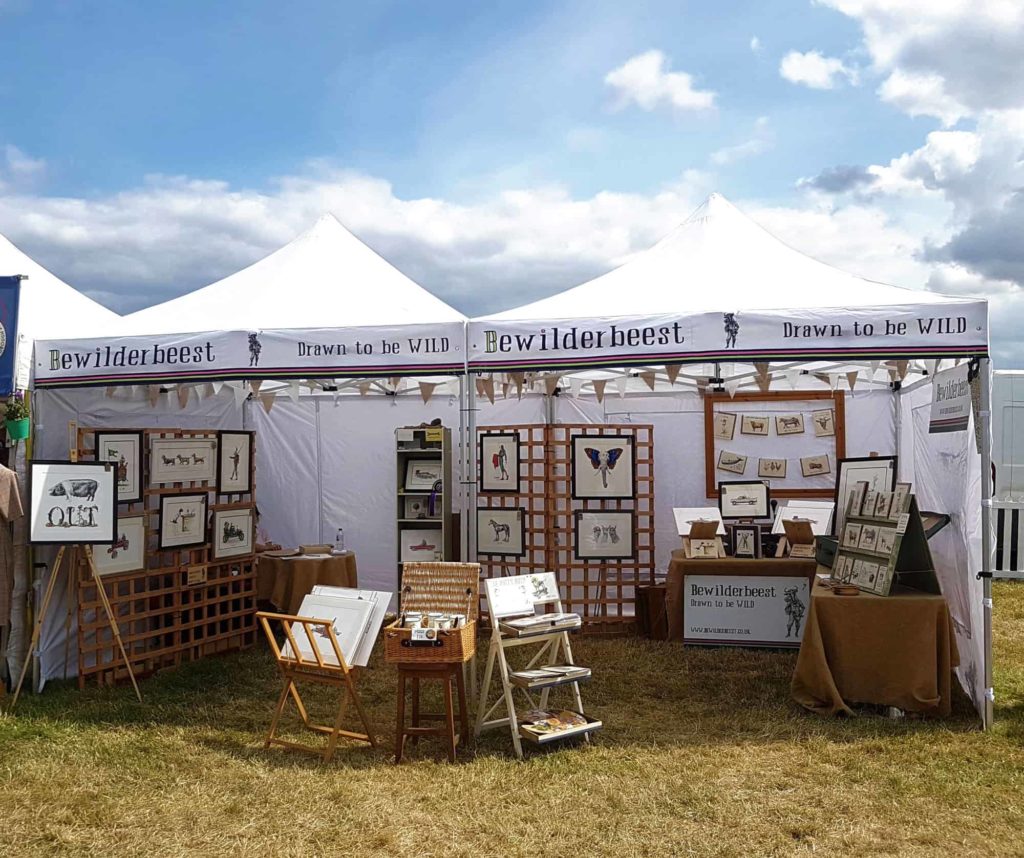 It's great to be unemployed!
I'm very lucky that my fiancée Maddy is as almost as bonkers as me: it was her idea to quit my job fully so that, as of November 2018, I'm officially Mr Bewilderbeest. Maddy comes to all the shows to help on the stand, and has packed more cards and orders than you can shake a barrel of sticks at, so she too has become an essential part of the business.
We're planning to go to some bigger shows over the next couple of years, and in the meantime, I'll keep coming up with absurd drawings and ideas! I've also been on a video marketing course lately so who knows what will happen… Maddy is feeling very nervous about me being let loose with a camera and my imagination!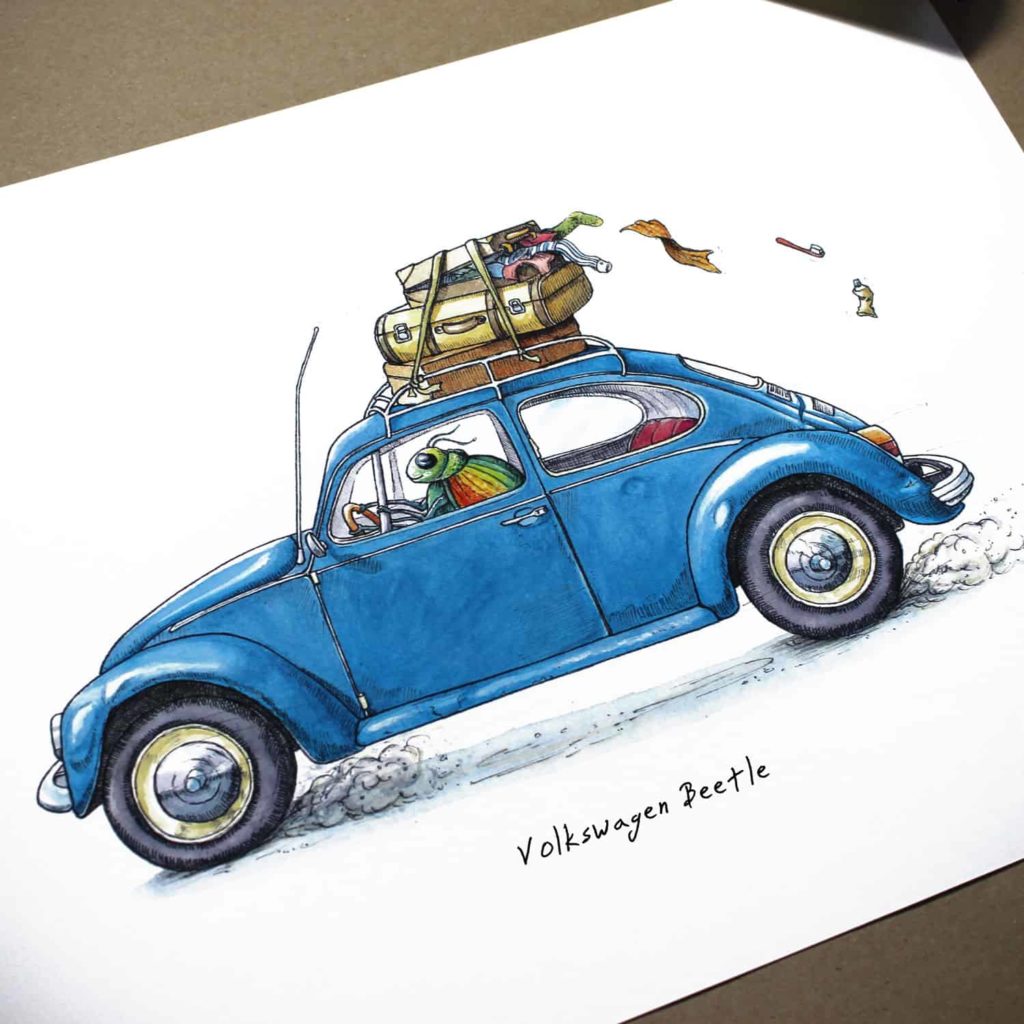 ---
PART III – Proudly Absurd
As with anything, trial and error has led to where we are now, and the idea of Bewilderbeest has developed way beyond what I started with. I now clearly know the sort of drawings that I enjoy doing, and the style that suits me best. I initially thought that all my drawings would be of animals, and while that is a large part of my work, it's not all. I've gone from drawing amusing animals, to just trying to have fun and think of broader absurd and daft ideas.
With this in mind, our tagline has had an upgrade from 'Drawn to be wild' to 'Proudly Absurd' over the last year.
We believe the best things in life make you look twice. They're absurd, they're extraordinary, and they don't always make sense…just like us!
---
The Bewilderbeest Confusion
Did you know that the collective noun for Wildebeest is 'A Confusion of Wildebeest'?
Well, we think that works rather well for Bewilderbeest too!
We have created the Bewilderbeest Confusion, which is essentially all the brilliant people who love the absurd and daft side of life as much as we do, and have signed up to our mailing list.
Members of The Bewilderbeest confusion will be the first to hear about new designs, upcoming events, get first dibs on new originals, one-offs, giveaways and competitions! You'll be what some people call a VIP (which I believe stands for Very Impressive Person).
It's free to sign up! To join the Bewilderbeest Confusion simply enter your name and email address below.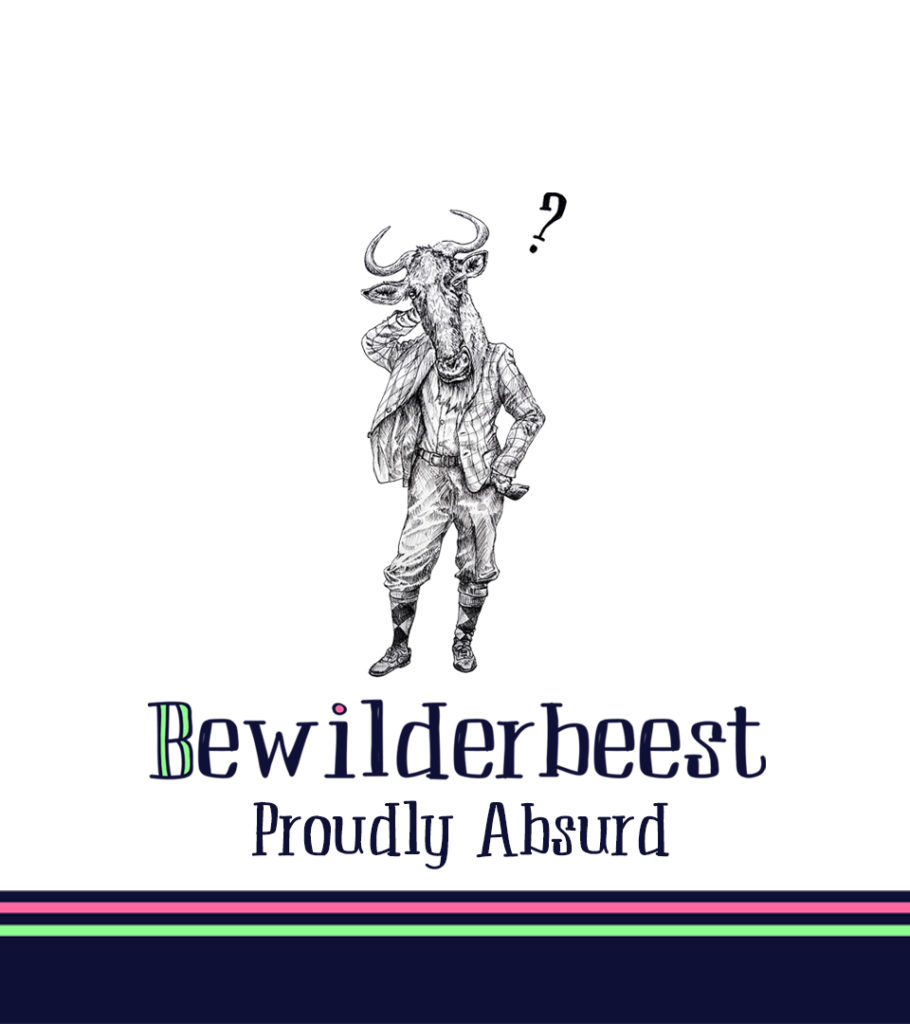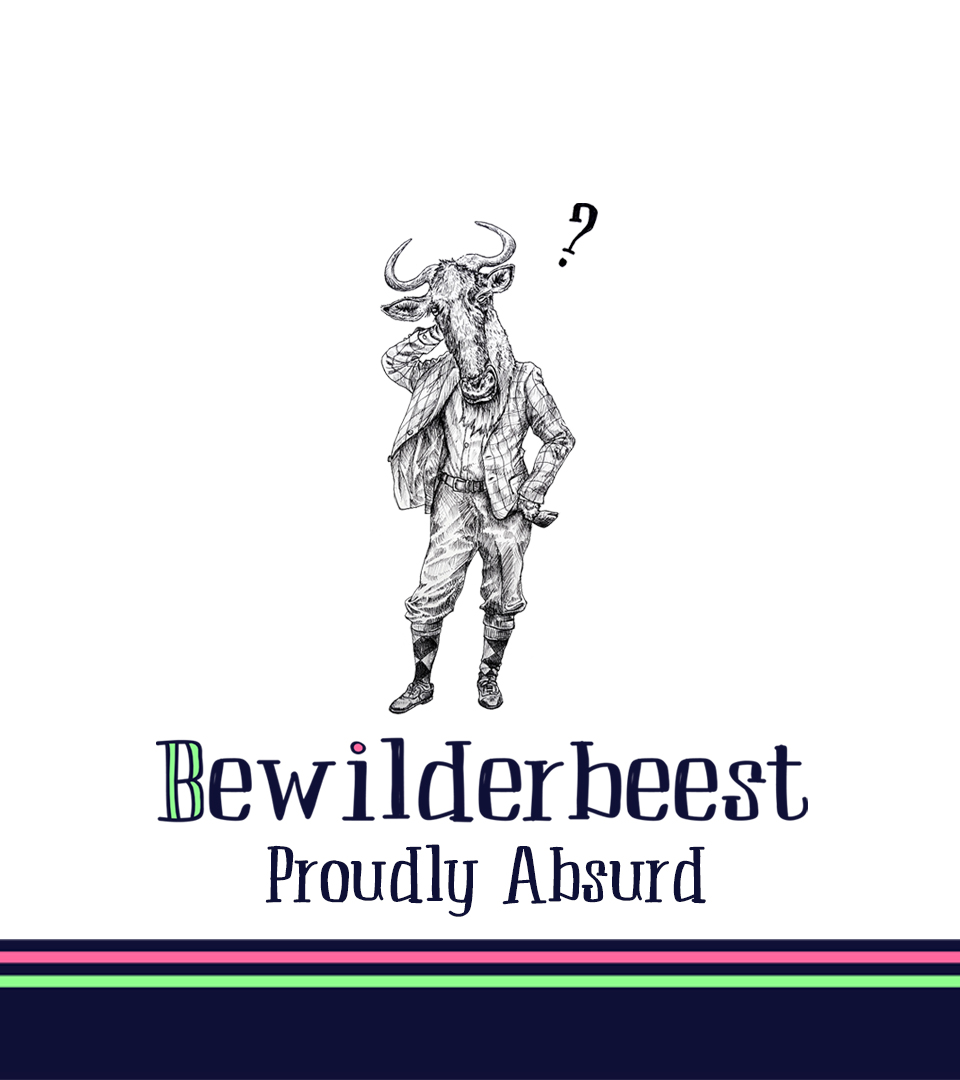 We don't take life too seriously, and nor should you!
We also love to hear from you (especially your best/worst jokes) so don't hold back – get in touch with us!
---