New Card Writing Service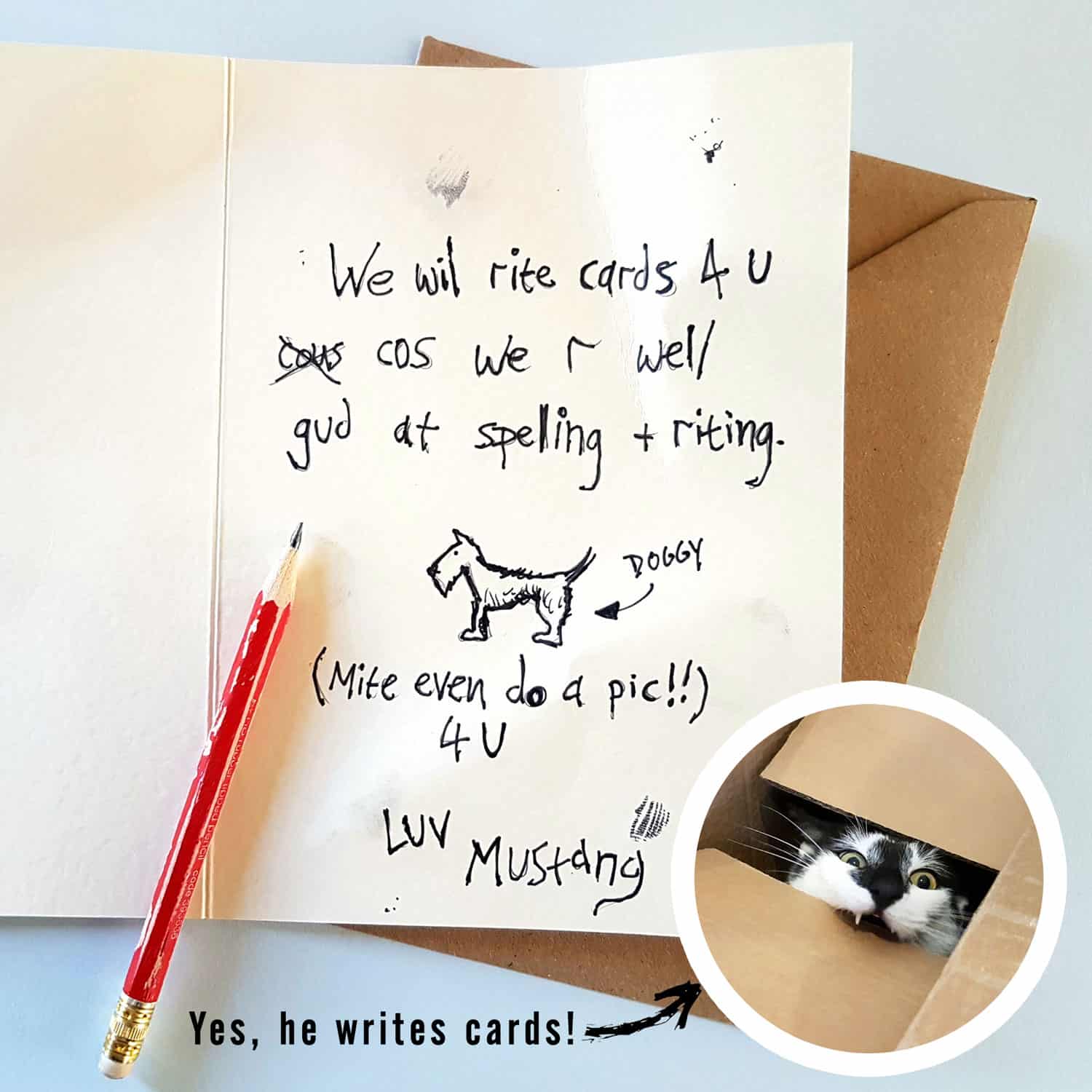 Have you always dreamed of sending cards, hassle free, from the comfort of the loo?
No? Really? Well, obviously nor have I… definitely not. I mean that would be weird… it's definitely not something I would be keen to do…
WELL! We've achieved it anyway! Isn't science wonderful!?
In March, we launched a new FREE card writing service, and it has gone down a storm.
I say "we" because this new venture was originally Colonel Mustang's suggestion, but he has actually only written a couple of cards – Maddy and I have done the rest. Typical.

To be fair, sleeping in the garden with his head resting on his own personal branch is far more important. He does at least proof read the cards.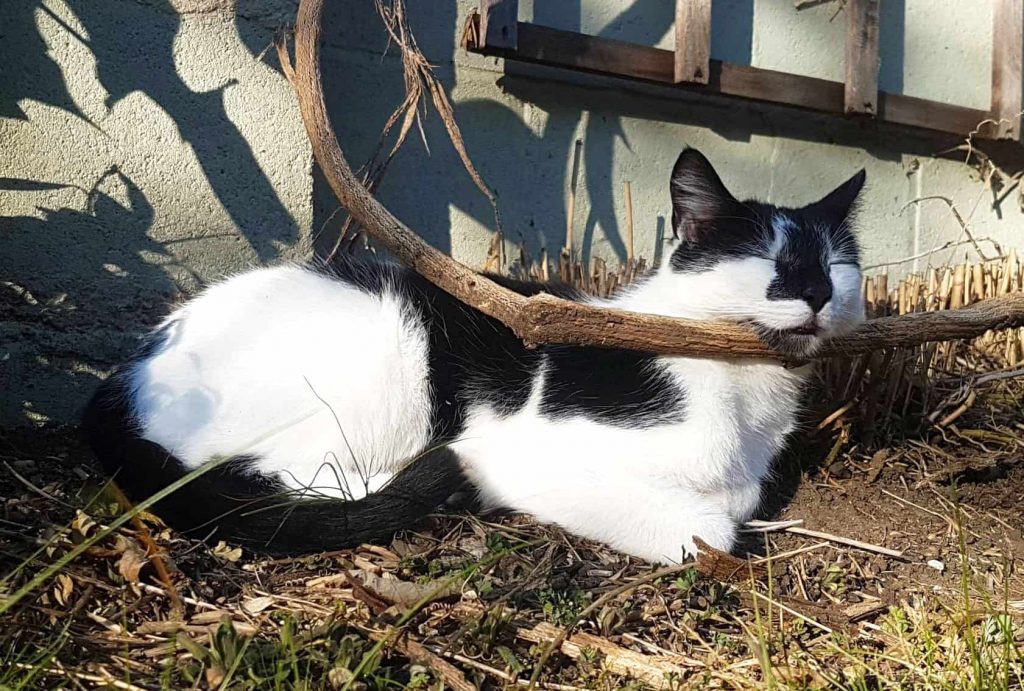 Who's it for?
While Mustang snoozes the day away, we have been busy writing cards for you marvellous lot. We've written cards for birthdays, anniversaries, new homes and get well soons (is 'soons' a word? – almost certainly not).

Everyone using the service has one thing in common, they all want to stay in touch with their loved ones and let them know they are in their thoughts.
Well, two things in common – they all like daft cards too.
Why are we doing this?
Well, due to the current lockdown in the UK, all the usual great places you can buy cards from have had to shut their doors for the time being. Yes, the supermarkets are still open but let's face it, a lot of supermarket cards don't exactly fire the imagination.

Of course, many shops will let you order cards online, but there's just one (quite frankly large) sticking point with that – it takes some organisation….

Some of us, myself very definitely included, have a habit of being a bit last minute when sending cards. You order the card online, wait for it to arrive, write it, then send it on to Great Aunt Agnes three days after her birthday. Ain't nobody got time for that!
Also, it means that you pay for postage twice. That's not good news for anyone (except the Post Office, I suppose).
So, we thought we could make things a lot quicker and easier by offering to write cards for you. We will hand write a message of your choice in the card and send it directly to whoever you choose, at no extra cost. Therefore, you only pay for postage once (hurrah!).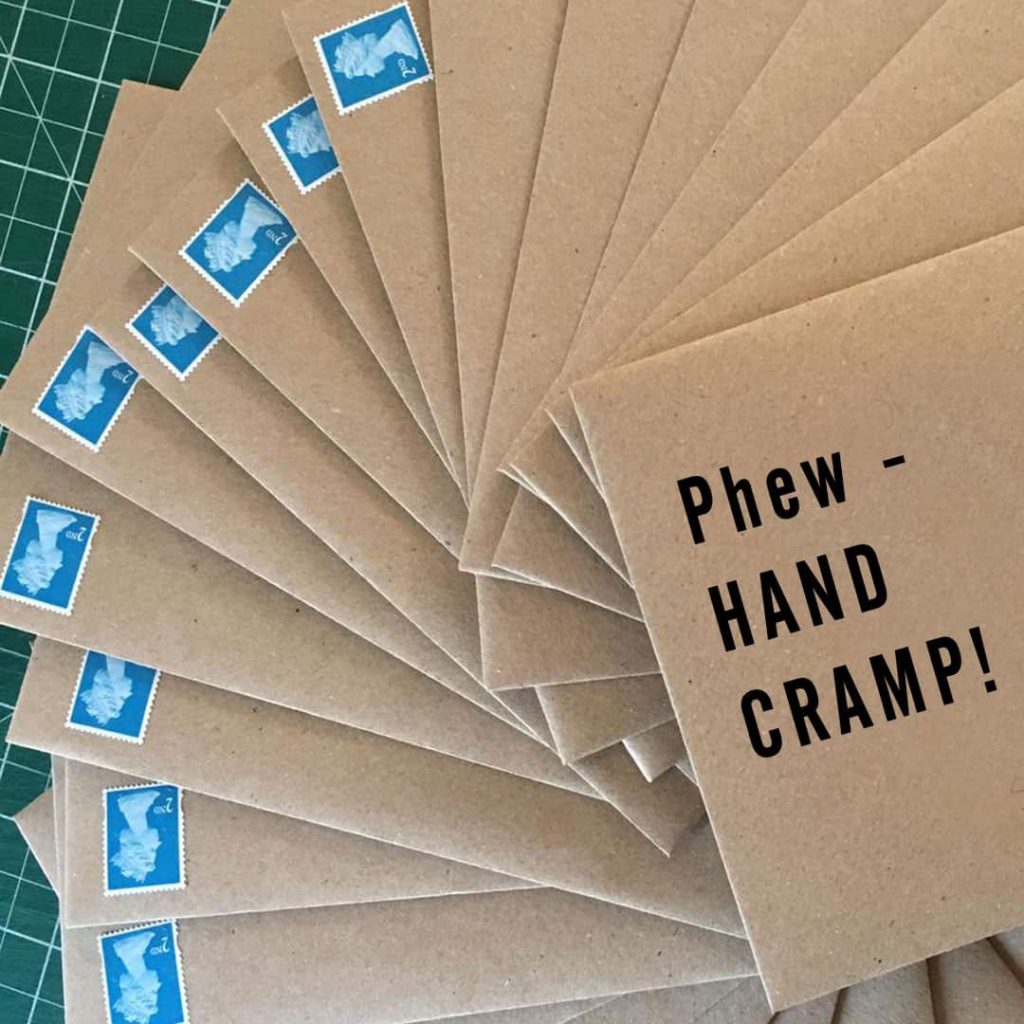 How does it work?
1. Firstly, select a card on our website.
2. Leave the recipient's details, including their Name and Address, as well as the message you would like us to write at checkout (In the comments box).
3. Look forward to a little video from us letting you know that your card is on the way.
4. Finally, bask in the adulation of your card recipient!
"Bewilderbeest are helping me keep in touch with my loved ones from the comfort of my own home! They do everything from writing in the cards to delivering directly to my friends and family. Keep spreading the joy with these hilarious cards!"

Jess – Queen of Cards
What could be easier?
You don't need to find a stamp, a post box, or even a pen.
Only pay for postage once, rather than get it delivered to you and then have to buy a stamp to send it on.

Now, you could literally send your mum a birthday card from the loo. If you're writing to ask for more toilet paper though, I respectfully suggest that there are quicker communication methods available.

Quizzes are all very well…

At this time, we seem to be rapidly replacing pub trips and weekends with the family to quizzes on Zoom, Houseparty virtual drinks and Facetime calls. We are yet to win our family quiz, but that's another story….(I still maintain sloe gin is a type of gin).
These are all great ways of keeping in touch and seeing our family and friends virtually. But if you want to do something a bit more special, personal and memorable for your loved ones, sending a card in the post is a great way to do just that.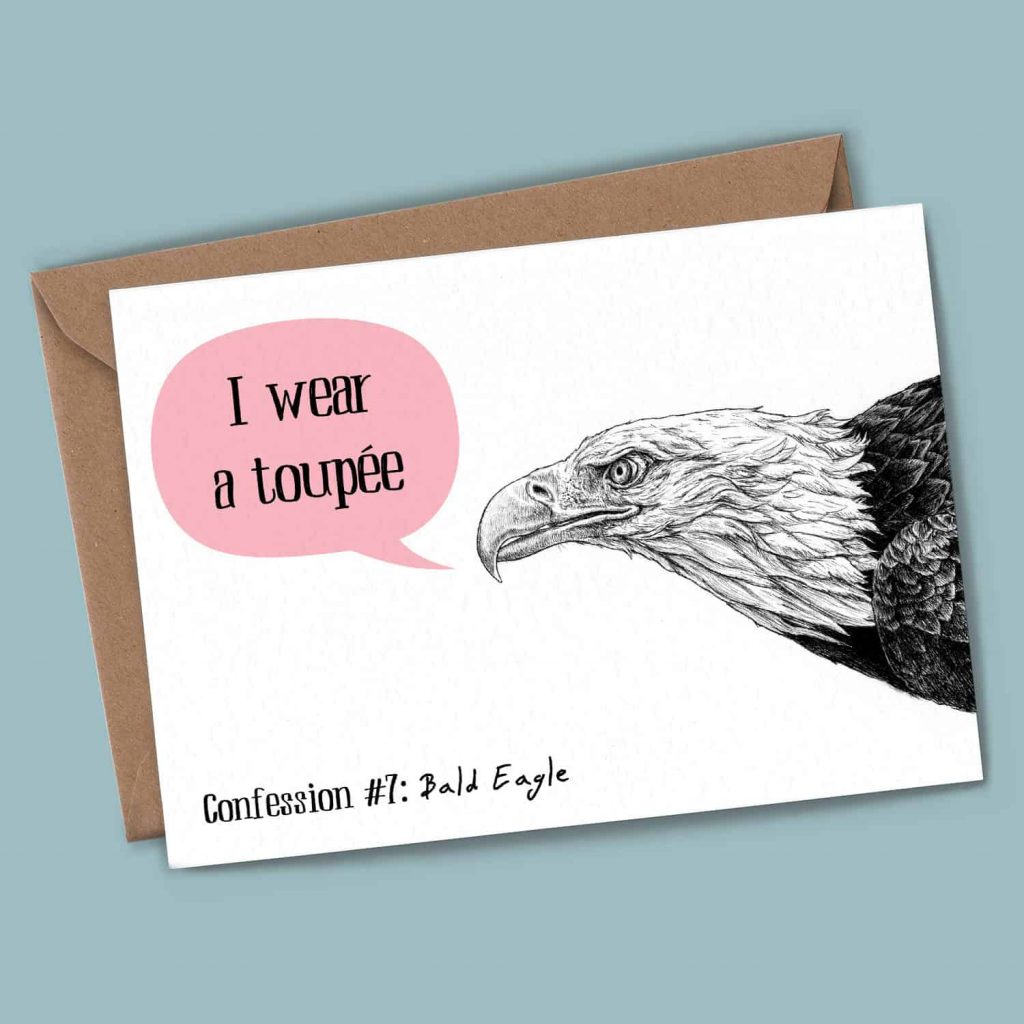 Ten Reasons To Use Our Card Writing Service (Not that you need any more convincing, I'm sure…)
1. Don't miss anyone's birthday! The Number One reason… You won't risk sending a card late (again) for Aunt Agnes' birthday!
2. Feel Awesome! You're going to make your friends and family feel special when they receive the card that you have picked for them, and that will make you feel great.
3. Stand out. Don't be like everyone else who is writing a quick Facebook "Happy Birthday" Message. Instead, you can send a card and stand out from the digital crowd.
4. This service is FREE: I know, we're all heart.
5. It's super easy to do… Just add a card of your choice to the basket on our website. At checkout, pop in the person's name and address, as well as the message you would like us to write on your behalf.
6. Hand written messages: We will write the card in our best hand writing and post it for you (we promise not to let Colonel Mustang smear his dirty paw prints all over it).
7. Personal and Fun Cards: You don't need to settle for another boring card in the supermarket, and as a result, you can pick one which will give someone a good laugh.
8. No Hassle or Risk: We look after everything for you! So, there is no hassle or risk to you or your family going to the shop or the post office, or having to remember to buy stamps!
9. Cards for all occasions: All of our cards are blank inside, so they can be used for any message you would like to send.
10. Save on postage: You only pay for us to send the card directly to the recipient, rather than the cost to send the card to you, and then for you to send it on. The postage costs just £1.
In the current lockdown climate the ability to send cards direct has been very helpful and a blessing.

Margaret
Did you know that 15-25 year olds in the UK sent more greetings cards than any other age group in 2019? That's right… sending cards has become cool again.

Forget TikTok and start sending cards to really be down with the kids….
You can send it from the sofa,
You can send it from the loo,
We'll write your card,
Though spelling's hard,
At no extra cost to you!
Who will you make laugh with a daft card? Click here to choose a card to send today.