FREE Cards and NO minimum wholesale order!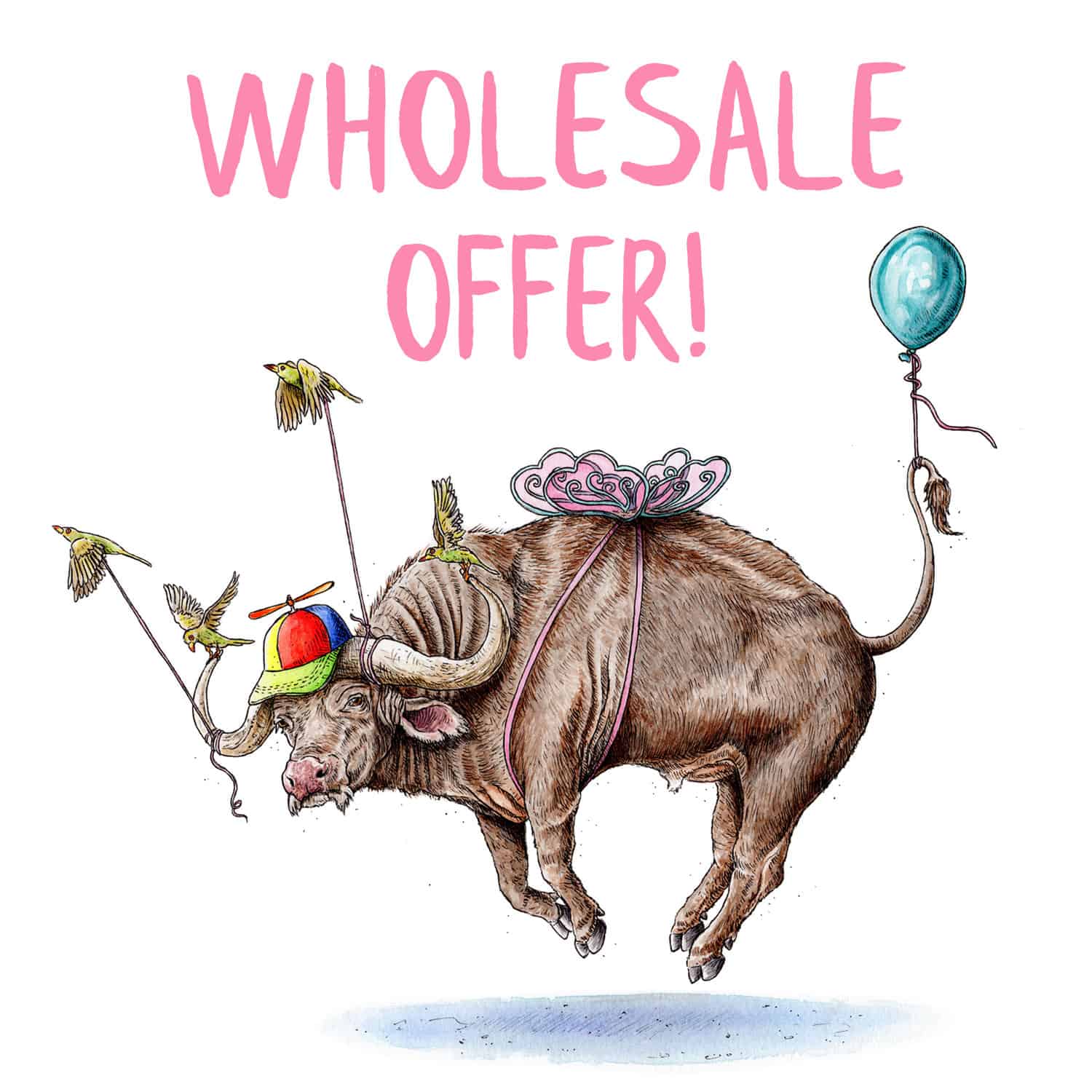 Spring is sprung, shops are open again (hurrah!) and things are looking up!
To extend the positive vibes, do you want: No minimum order terms, quick delivery and a free pack of cards?

We thought you might.
Our cards will make your customers laugh. They're daft, absurd and are all blank inside, so can be used for any occasion.
Our current stockists include Harvey Nichols, independent gift shops, garden centres, florists, Post Offices and many more. Our cards appeal to anyone with a dubious sense of humour!
Cat lovers, dog lovers, 'dad joke' specialists, you can impress them all with our range of over 70 designs.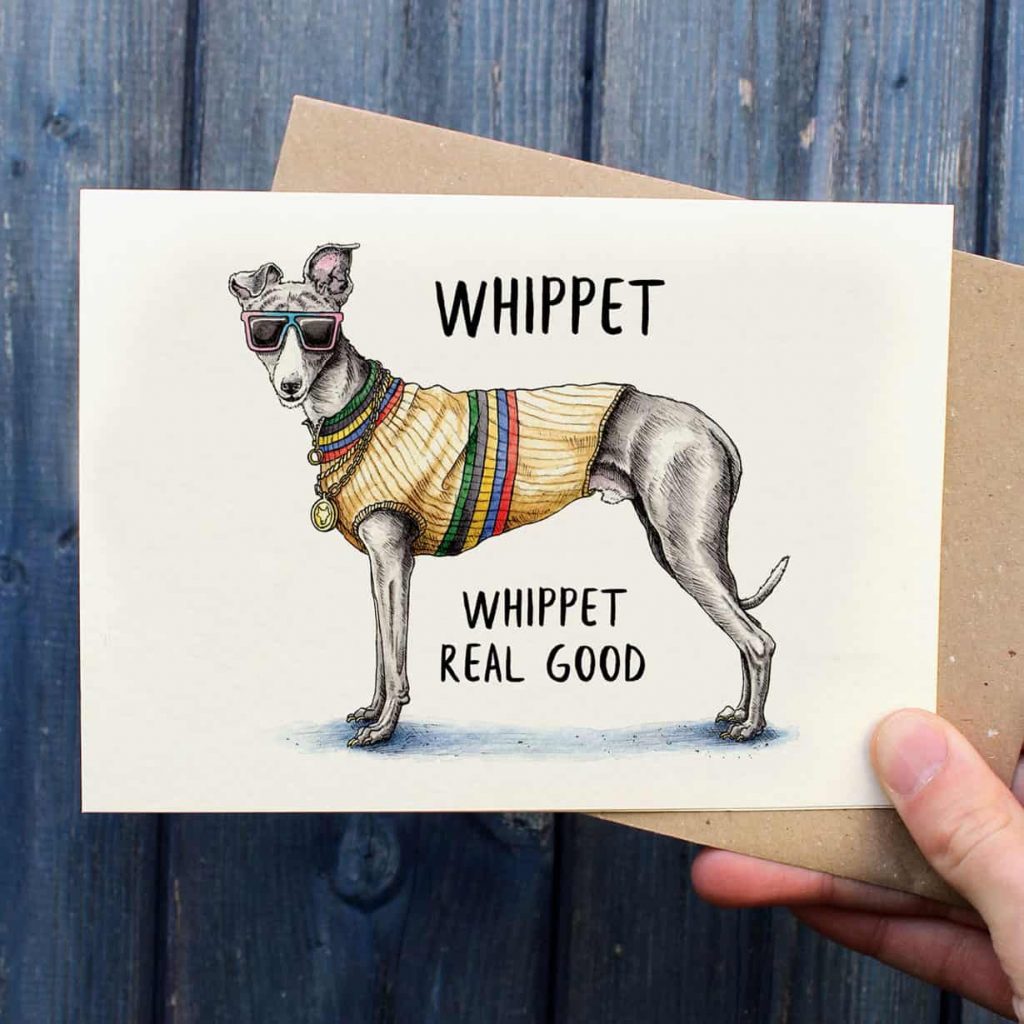 What is the offer?
How To Claim The Offer
Ordering is easy!
1. View or download our Catalogues by clicking below

2. Fill out an order form with your card selection, and let us know which free pack of 6 cards you'd like.
3. We'll send you a proforma invoice if it's your first order with us, then ship the order once payment is received. If you've ordered before we'll send the package ASAP!

If you're using your phone and can't open the order form, just send us an email with your order details: info@bewilderbeest.co.uk
If you prefer to order over the phone, call us on 07742 895 283.
Have a question? Just email or call us and we'll be happy to help.
Offer ends 31st May 2021.
How much do the cards cost?
The wholesale price is £1.15 per card (£6.90 per pack of 6 cards) plus VAT.
The suggested RRP is £2.95 per card.
Not sure what to order? Check out our top 10 bestsellers:
1. Lab Testing (DO1)
2.Catatonic (CT01)
3.Whippet Real Good (D09)
4.Lads Lads Lads! (ED07)
5.J'Adore Mon Pear! (FD01)
6.Whale of a Time (B01)
7.Mackerel (CC02)
8.Sausage Roll (D08)
9.Sublime (V09)
10.Shih Tzu (D05)
How much is delivery, and how quickly will the order arrive?
Delivery costs £6.50 plus VAT, or is FREE for all orders over £100.
All orders in the UK are sent with Hermes Standard Delivery. Allow 1-2 days for us to pack your order (if all items are in stock), plus 3-4 business days for delivery. We'll update you with tracking information as soon as we have your order ready to go.
Not quick enough? If you want to pay for Express delivery, let us know and we can arrange this.
How will the cards arrive?
Cards come in packs of 6 per design, and are held together with a Bewilderbeest belly band.
All cards are wrapped individually in a cellophane sleeve, for protection. If you'd prefer the cards to be sent without cellophane sleeves, just let us know when you order.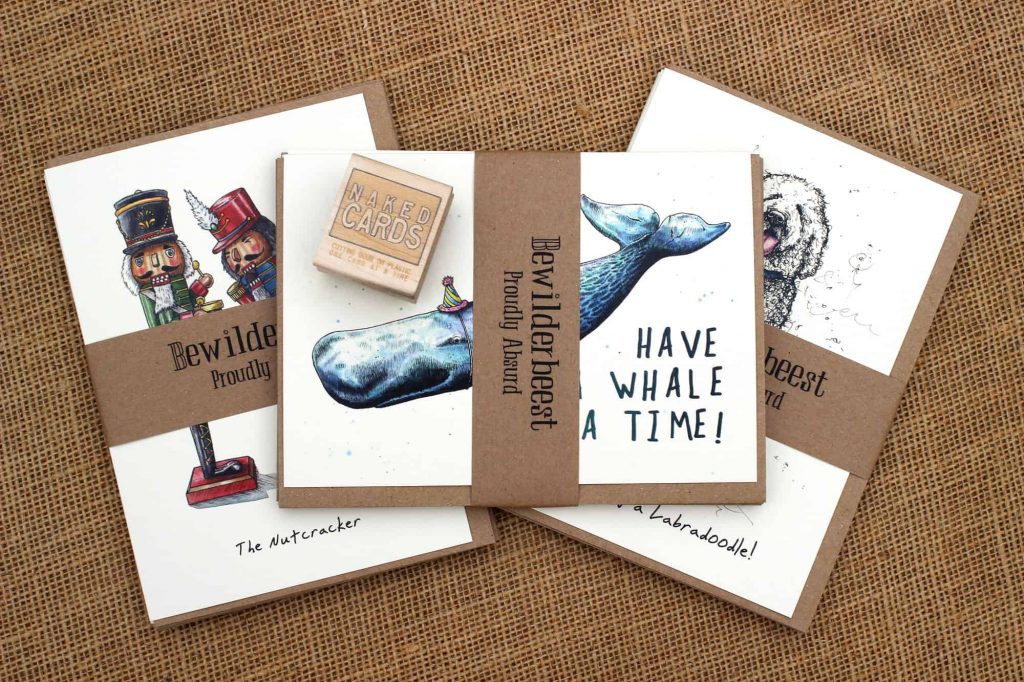 Are the cards eco friendly?
The cards are made from a sustainable card stock and come with recycled brown envelopes.

The printing firm that we use is part of the Woodland Trust Carbon Capture Scheme and are less than 5 miles away from us!
Don't just take our word for it…
"I bought Bewilderbeest cards for my loved ones for Christmas. They were at a loss for words. So much so, I haven't heard from any of them since. Totally worth the money!"

One of our favourite reviews!
Very excited about my Christmas cards when they came through, not only are the illustrations beautiful and funny, but the quality of the cards are top notch as well. I'm definitely going to win 'best card' this year (not that it's a competition…maybe a bit of a competition…)

Competition winning cards!!
Let us promote you!
Having a launch event, open day or just want some free promo about your shop?

Just let us know the details or tag us on Social Media and we'll happily promote your shop on our channels too.
We Hope This Helps!
We've been wracking our tiny minds for ways that we can help all those shops and businesses who have had a difficult time over the last year.
Hopefully, this gives you a way to stock up on some new cards, without being committed to a high minimum order, with the added bonus of some free cards!

After all, everyone loves a freebie…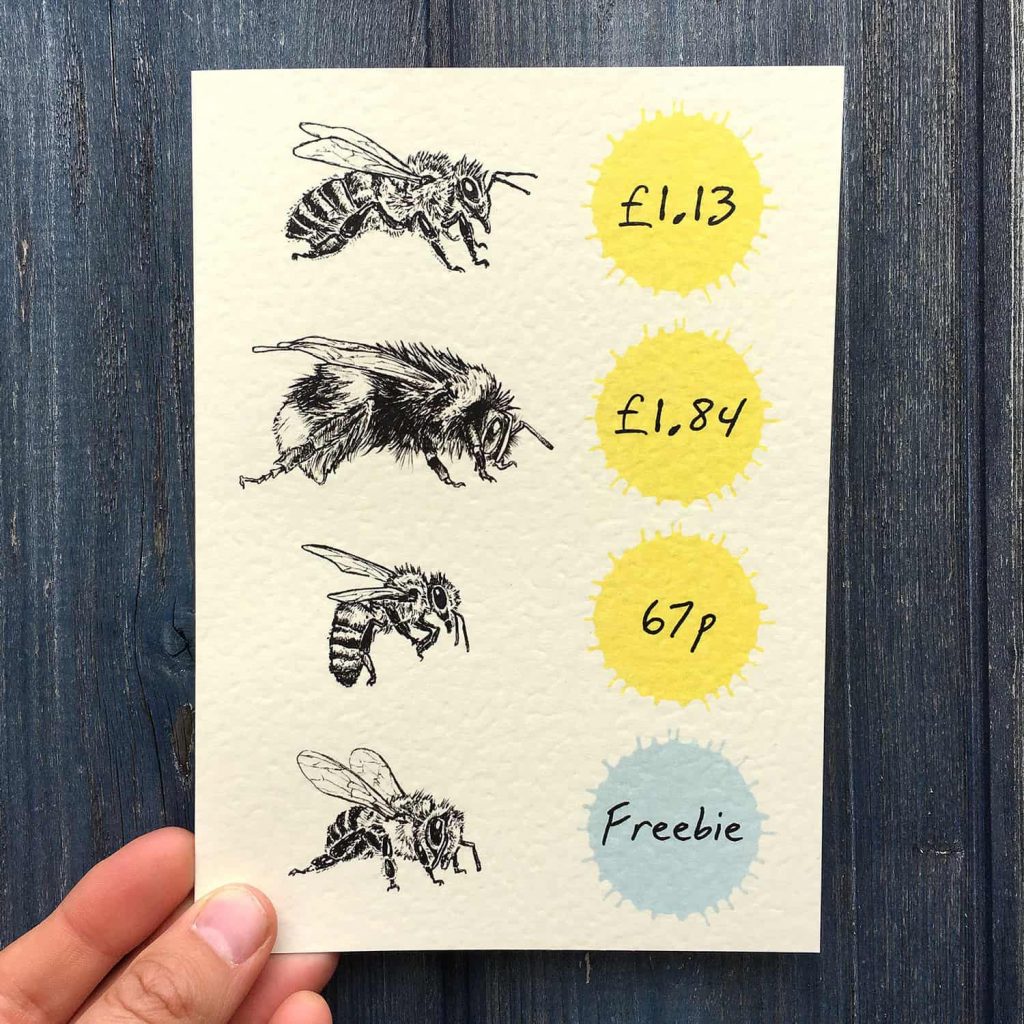 Cheers!
Iain, Maddy, Col. Mustang and Maj. Ajax